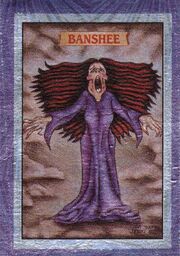 Banshee is a 15 point unreleased monster that was supposedly part of the Series 3 line of monsters.
Trading card text
Edit
(Translated from the mexican card)
Species: Humanoid spirit
Born: Unknown
Size: 1.50 to 1.80 meters
Habitat: Wanders all over Ireland, she has no home
She is the spirit of a beautiful woman who died prematurely. She's very pale, has long hair and sparkling red eyes from crying. Her tears are for those who are going to die ... in her hands. If you catch her she shall grant you three wishes and reveal the name of his next victim.
Ad blocker interference detected!
Wikia is a free-to-use site that makes money from advertising. We have a modified experience for viewers using ad blockers

Wikia is not accessible if you've made further modifications. Remove the custom ad blocker rule(s) and the page will load as expected.