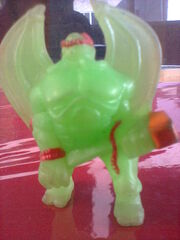 In Etruscan mythology, Charun (also spelled Charu, or Karun) acted as one of the psychopompoi of the underworld, not to be confused with the lord of the underworld, known to the Etruscans as Aita. He is often portrayed with Vanth, a winged goddess also associated with the underworld.
Trading Card Text
Edit
Ad blocker interference detected!
Wikia is a free-to-use site that makes money from advertising. We have a modified experience for viewers using ad blockers

Wikia is not accessible if you've made further modifications. Remove the custom ad blocker rule(s) and the page will load as expected.