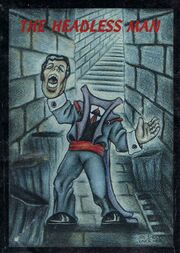 Headless man is a 10 point unreleased monster that was supposedly part of the Series 3 line of monsters.
Trading card text
Edit
(Translated from the mexican card)
Species: Spirit
Date of death: 1775
Size: A head shorter than most men
Habitat: Forests of the Northwest US
This creature rides his black horse at the speed of the wind, is able to jump over the trees and disappear in a split second leaving just a spark behind.
Ad blocker interference detected!
Wikia is a free-to-use site that makes money from advertising. We have a modified experience for viewers using ad blockers

Wikia is not accessible if you've made further modifications. Remove the custom ad blocker rule(s) and the page will load as expected.