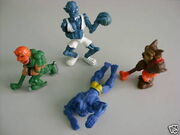 Monster Sport Stars In My Pocket
were a series of figures, released in 1996, that acted as a follow-up to the popular
Monster Wrestlers
range. Comprising only twelve figures, it was the shortest series of monsters released (with the exception of the supplementary
Super Scary Howlers
range), and was divided into three sets, labelled A, B and C. Much like the Monster Wrestlers, the Sport Stars were made from hard plastic and were fully painted. Each portrayed a common, popular monster (such as a vampire, skeleton, werewolf or yeti) in a sporting pose. Unlike the Wrestlers, the Sport Stars did not have points values. As with the Wrestlers promotional figures, a representation of Frosties' mascot Tony the Tiger was included.
The figures were only available in special promotional packs of Kellogg's Frosties. A figure from either set A or B was included in each promotional 1kg and 750g pack, and all pack sizes inlcuded special tokens that could be collected, then sent off by post to redeem for a full four-figure set.
The Monster Sport Stars
Edit
Ad blocker interference detected!
Wikia is a free-to-use site that makes money from advertising. We have a modified experience for viewers using ad blockers

Wikia is not accessible if you've made further modifications. Remove the custom ad blocker rule(s) and the page will load as expected.