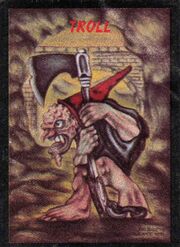 Troll is a 10 point unreleased monster that was supposedly part of the Series 3 line of monsters.
Trading card text
Edit
(Translated from the mexican card)
Species: Humanoid
Born: Refuses to reveal his age
Size: 90 cm
Habitat: Caves in Europe
These creatures are hunchbacked gnomes that wear red hats and use axes for defense. They are nocturnal beasts that will turn into stone or explode if exposed to sunlight. They also hate noise and loud music.
Ad blocker interference detected!
Wikia is a free-to-use site that makes money from advertising. We have a modified experience for viewers using ad blockers

Wikia is not accessible if you've made further modifications. Remove the custom ad blocker rule(s) and the page will load as expected.